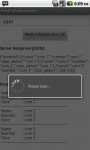 In This example calling restful webservice to get json data and parse that json data.
Steps :
1. Call php file (php) from server and create JSON data in php.

2. Consume JSON data by android and show on activity.

3. Parse JSON data and Show parsed data on screen(activity).
Read More