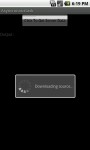 1. AsyncTask provide easy way to use of the UI thread.

2. Perform background operations and publish results on the UI thread without having to manipulate threads and/or handlers.

3. AsyncTask is designed to be a helper class around Thread and Handler and does not use a generic threading framework.
Read More