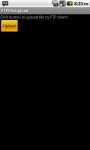 First Time User Please check previous example for normal file upload by server script( php | java | .net | coldfusion )
Upload File To Server - Android Example ( http://androidexample.com/Upload_File_To_Server_-_Android_Example/index.php?view=article_discription&aid=83&aaid=106 )
In this example uploading file on server by ftp client ( with the use of ftp4j-1.6.jar ).
Steps :
1. Using ftp4j-1.6.jar from sauronsoftware repository. Download and Add ftp4j-1.6.jar as library.

2. Must be required a Server Dedicated IP for FTP File upload.
Read More