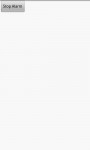 In This example creating a simple repeating alarm system with the use of AlarmManager. Alarm will start after each 2 mins.
Steps :
1. Using AlarmManager class to repeating and called a PendingIntent after each 2 min.
2. Call a media file on PendingIntent and start media file.
3. So after each 2 min AlarmManager will call PendingIntent a media file start.
Read More